Description
Welcome to Teaching with Nancy!
Your students will love learning to write CVCe words with this QR Code Write and Scan activity. Use them to play write the room or use it as an independent word work station.
There are 16 cards included in this set. Check out the preview and try it out for yourself.
Students write the name of each picture card, record their answers on the answer recording sheet, then scan the QR code to check their spelling.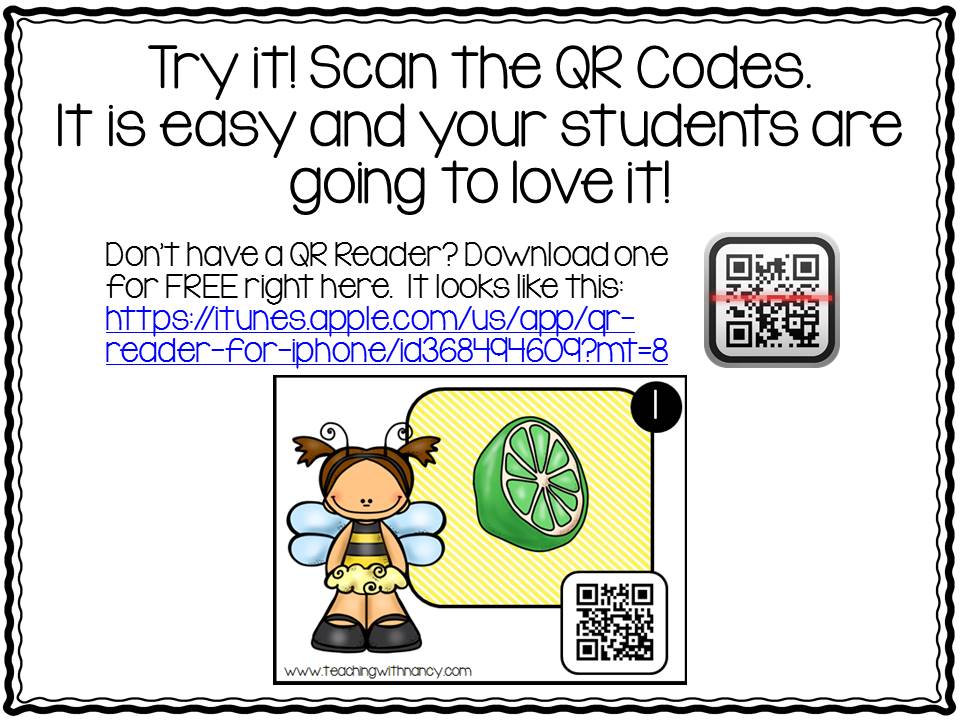 LANGUAGE:
English
GRADES:
Kindergarten
1st Grade
2nd Grade
SKILLS:
Writing CVCe Words: a-e, i-e, o-e, u-e
Long Vowel Words
INCLUDES:
16 CVCe Cards
Student Friendly Instructions
Answer Recording Sheet
CVCe Word Included in this Set:
lime
bone
kite
five
tape
rake
rose
dice
bike
dime
gate
hive
robe
nose
cone
cube
HOW TO USE:
1. Look at the picture on the card.
2. Write the name of each picture on your answer recording sheet next to its corresponding number.
3. Using a smart device such as an iPad or iPhone, scan the QR code to check your spelling.
4. Color the bee next to each word you spelled correctly.
Please download preview to view sample pages and complete preparation and activity instructions before purchasing.
PAGES:
6