Description
Welcome to Teaching with Nancy!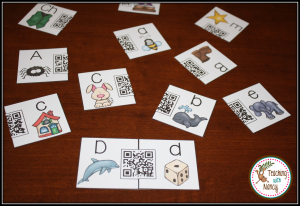 Making upper and lowercase letter matches just got a whole lot more fun! Your students are going to love making letter matches with this letter matching QR code activity. I have includes all the Spanish letters of the alphabet plus pictures of things that begin with that letter sound. This activity is perfect for your ABC station!
LANGUAGE:
Spanish
GRADE(S):
Preschool
Kindergarten
SKILLS:
Upper and Lowercase Letter Matching
HOW TO USE:
Provide students with the letter cards you would like them to work with. Differentiate by increasing or decreasing the number of letter cards. Students must match the upper and lowercase letters of the alphabet. To check their work, students scan the QR code and listen for the letter's name. If the QR code does not say the name of the letters, then the cards are not a match and they need to try again.
INCLUDES:
All the Letters of the Spanish Alphabet
PAGES:
5