Meet the Artist Behind Whimsy Clips and My Cute Graphics
Do you love clip art? I am a clip art addict! When I started to create digital downloads, I quickly became a clip art junkie!
One of my favorite clip art artist is Laura Strickland's she is the artist behind a site well known by teachers everywhere called www.mycutegrapichs.com.  Many people don't know but Laura has recently opened up a clip art shop at Teachers Pay Teachers called Whimsy Clips http://www.teacherspayteachers.com/Store/Whimsy-Clips.   Laura also host her very own shop www.whimsyclips.com.
I had the opportunity to interview Laura recently and I wanted to introduce everyone to the artist behind these wonderful clips.
 Q1:  Laura, can you share a little about yourself personally and professionally?
A1:  I'm a mom of three boys. My oldest is 18 and my youngest is 6. I've been making clip art since my oldest was 4. I own both My Cute Graphics and Whimsy Clips. I  have not had formal training in graphic design. I've learned just by doing and a lot of trial and error. In the early days I really had no clue what I was doing, I just created clip art etc. because I loved it.
Q2: How did you get started as an artist, clip art creator?
A2: Oh my, where do I begin? This story has so many beginnings and endings. I will try to give you a condensed version.
In 1998 when my youngest son was three I fell in love with graphics and animations and knew that's what I wanted to do. The following year I decided to give it a try, so I began sketching out images on paper and scanning them into a graphics program.
In 2004 I considered creating a clip art site but I wasn't sure if I wanted to put my images online. Fast forward to 2009 I put all of my work on My Cute Graphics, but I still wasn't sure what to do with the images or whether a clip art site was something I wanted to do. The biggest question I had was "Who will use this?" It took a long time for the light bulb to go off and for a time I considered closing My Cute Graphics and doing something else.
In 2010 a teacher e-mailed me and asked if she could use the clip art in lessons she was creating and sharing via Google Docs. Of course, I said yes. This was such a "duh moment" now that I look back on it. Teachers were emailing me asking to use the clip art but it wasn't until after I spent 2 weeks in my son's class helping with Christmas activities in 2011 that I realized teachers really needed clip art. I really don't know what took so long for the light bulb to go off, but I'm so grateful for that first e-mail and the two weeks I spent helping my son's teacher. Who knew two weeks with glitter, glue and pipe cleaners could be life-changing?
Eventually, Whimsy Clips was born. I really struggled with whether or not to start Whimsy Clips. Teachers were asking to buy the high-res version of my work and I honestly was not comfortable selling clip art to teachers, it's something I still struggle with, but in the end I decided to see where it goes. I wouldn't be doing what I do if it were not for the support and guidance of teachers.  At every turn it seems there was a teacher guiding me to this point and it's really because of teachers that I started making clip art on a more serious level.  Looking back it's nice to see how it all just fell into place.
Q3: Where do you get your inspiration?
A3: From watching my boys play and interact. From spending time in the classroom.  My boys teachers have been a huge inspiration. Just last week my boys former kindergarten teacher stopped me to tell me what clip art she needs for Thanksgiving.  A lot of times teachers will request something and the ideas just flow.
Q4:  I am curious to know, how were Emily, Nate, Connor and Annie born?
A4: It really started with Nate. Originally, I had an idea for "Know-it-All Nate". I wanted him to be a curious kid that loved to learn. I had so many ideas for him, and then I had more ideas that included Nate's friends, so I spent a month creating new kids and my two youngest boys helped choose the names. Caleb is named after my middle son. And Connor was based on my youngest son. I'm not sure why I gave Connor his name, because my youngest son's name is Collin. I guess that's another one of my "duh moments". I expect you'll eventually see a new kid named Collin.
Q5:  I am a big fan of your work.  I really love your style.  What do you think sets you apart from other clip art artists?
A5:  I'm honestly not sure how to describe my style. There are some very talented clip art creators out there and each of us brings something unique to our designs. My goal, especially with Whimsy Clips, is that it's bright, fun and versatile. The one thing I think that sets Whimsy Clips apart from others, and even from My Cute Graphics, are the "scenic" illustrations. I'm not sure that's the best way to describe them. The scuba kids set would be a good example, I really love the image of Connor peeking around the treasure chest. I really want to do more fun illustrations like those.
Q6:  What projects are you currently working on and what can we look forward to?
A6:  Right now I'm focused on Holidays and ELA. I also have a whole new set of kids that I want to put together soon. I'm very, very excited about the new kids.
Q7:  Would you share a clip(s) you are most proud of? Why is this clip so special (meaningful) to you?
A7: I really don't have a clip art design that I'm most proud of. I am proud of both sites for different reasons, though. I'm extremely proud of Whimsy Clips because it's my best work ever. I put so much into it, because all of you work so hard, and if you're going to spend your money I want it to be money well spent. I'm proud of My Cute Graphics just because it's helped so many people and at the end of the day that's all I really care about.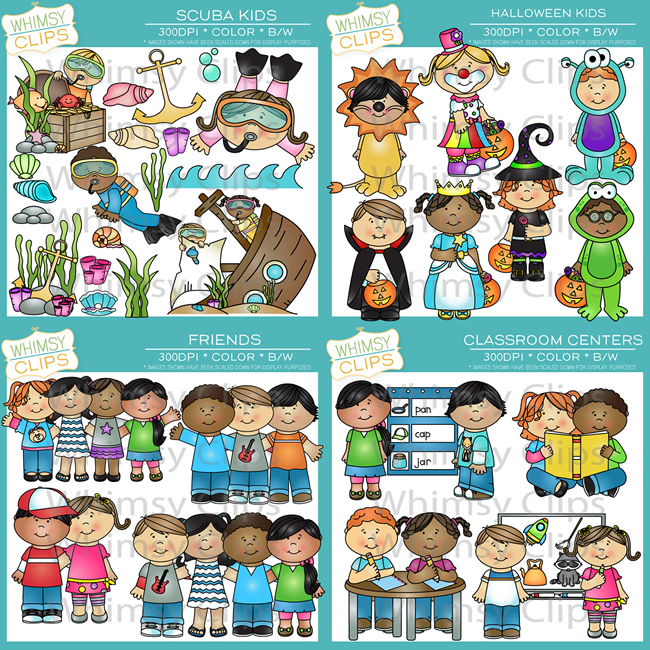 Be sure to visit her shop and download a freebie!