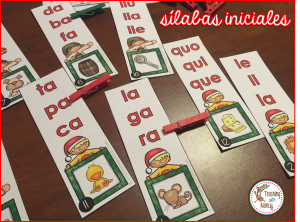 Your students are going to love working at these 5 initial syllable Christmas stations! These stations are perfect to use during Spanish language arts rotations. Students can work with these stations independently.  Three of the five stations come with a QR code scan and check feature to really motive your students to complete the tasks cards. All you need is one smart device with a free app that can scan and read QR codes and you are set. If you don't have a smart device, no worries, your students can still complete these activities and check their answers the good old fashion way.
Working with all 5 vowels!
All 5 stations include syllables with all 5 vowels with a variety of consonants.  The syllable variations included in these stations will give your students many opportunities to practice reading different syllable combinations. I hope they learn some new vocabulary too!
I made this short video to demo each station to show you exactly how they work. I hope this video preview will help you determine if these materials match the needs and skill set of your students.