Who's Who and Who's New, A New Blog for a New Year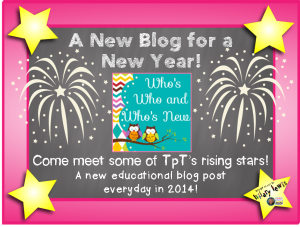 Welcome to the new year and a new kind of blog.  This year 40 blogging educators from around the globe have teamed up to bring you daily teaching tips and resources.  Yes, daily, 365 days of the year!
This collaborative effort will create a different kind of blog unlike any other.  Learn from the insight and experience of 4o different elementary school educators with experience in: education technology, special education, P.E., music, art, media, instructional coaching and more!
This year is going to be quite a learning adventure.  Don't miss it! 
Click on the logo below to learn about each author and to read our very first post. 
Happy New Year!