"Egg"cellent Activities: ELAR, Math, Science and more!
If you are looking for a bundle of activities that will last you all of spring, here it is!
For a limited time it is $19.99 from Educents which is about 60% off!  That is a saving of $26 dollars!
And if you have never purchased from Educents before.. they always have a great deal for your first purchase.  Click here if you are a first time purchaser to take advantage of a  special offer just for you!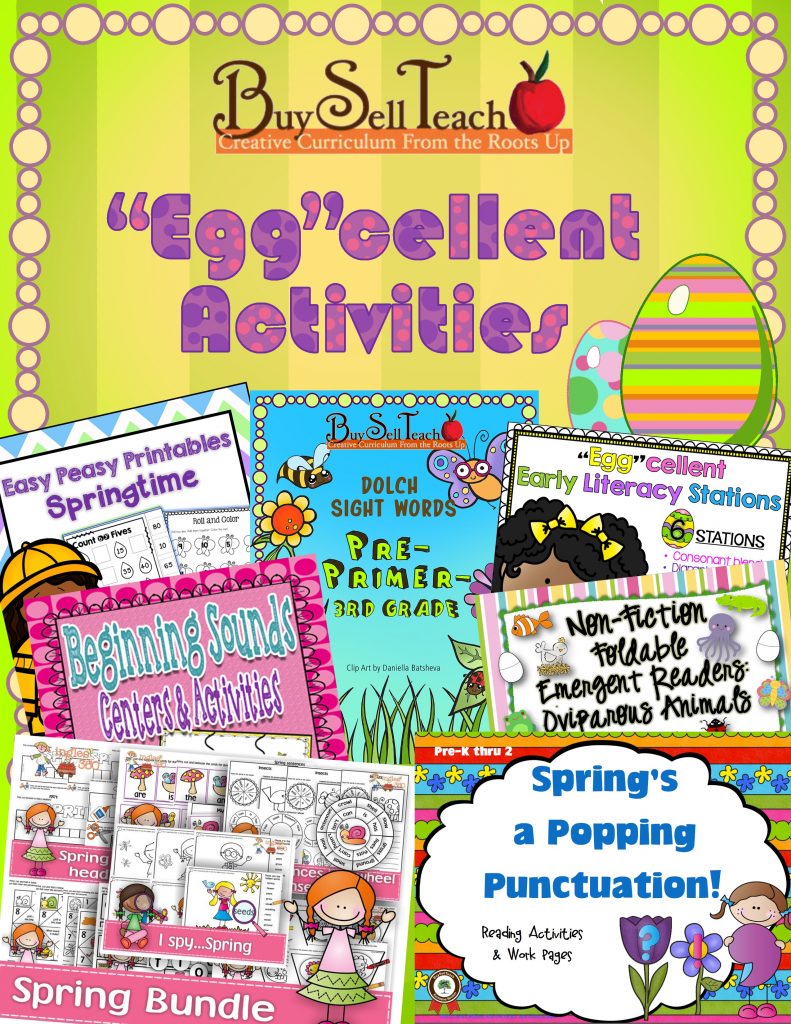 This huge bundle includes six different units.  One of the units is my "Egg"cellent Early Literacy Activity Pack that was recently recognized for its use of QR codes to create engaging learning stations.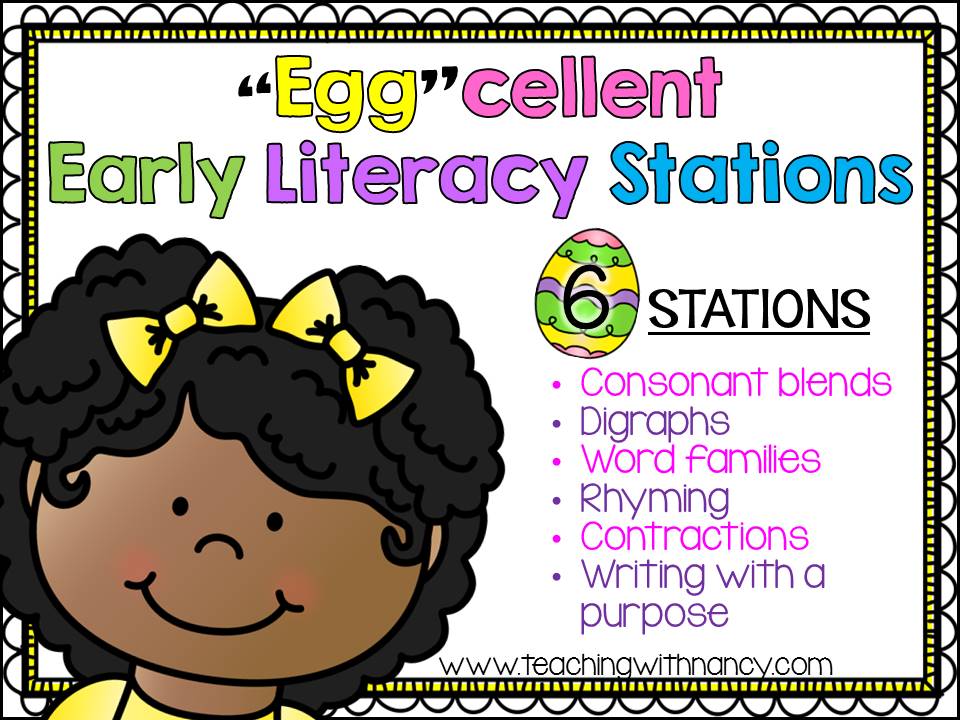 These are fun and engaging learning stations, NOT a bunch of worksheets! Each station addresses a different important early literacy skill. Prepare these 6 stations quickly, just print, laminate, cut and they are ready.
Includes 6 different early literacy stations!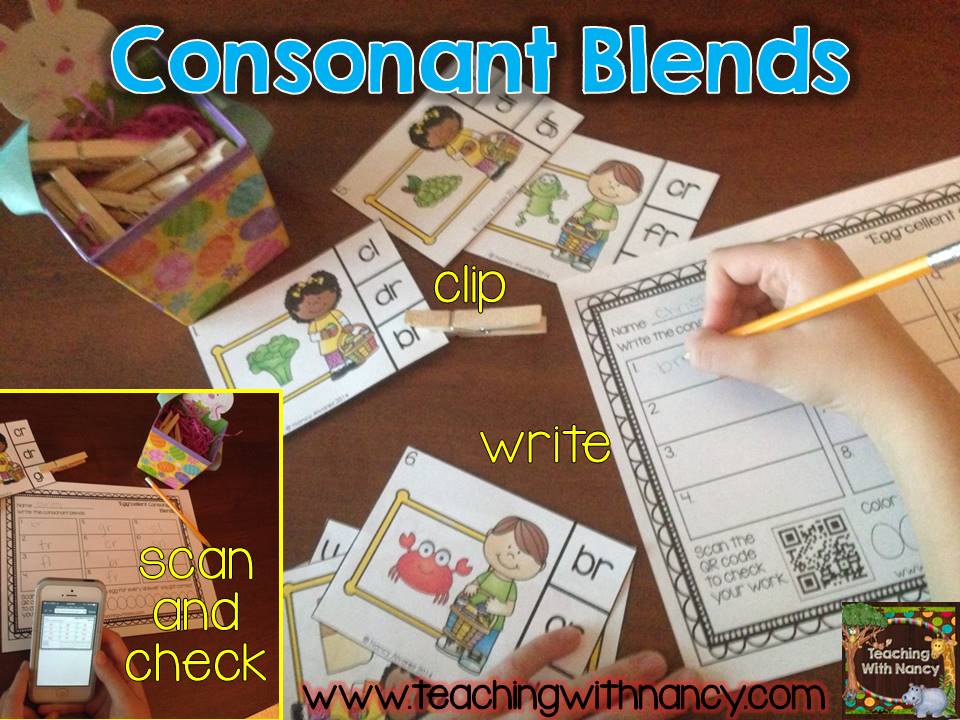 12 Consonant Blend Clip Cards with QR Code Scan and Check Answer Recording Sheet (Blends included: br, tr, fl, sn, gr, gr, cr, fr, sl, sn, tw, pl)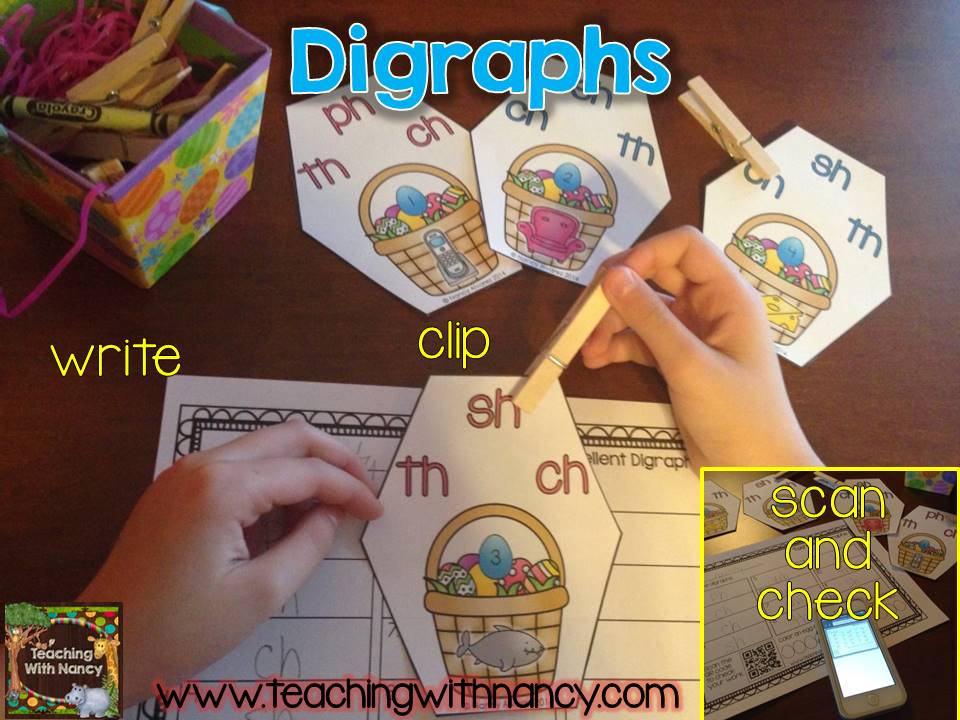 Digraph Clip Cards with QR Code Scan and Check Answer Recording Sheet (Digraphs included: ph, ch, sh, wh, th)
10 CVC Word Family Clip Circles with QR Code Scan and Check Answer Recording Sheet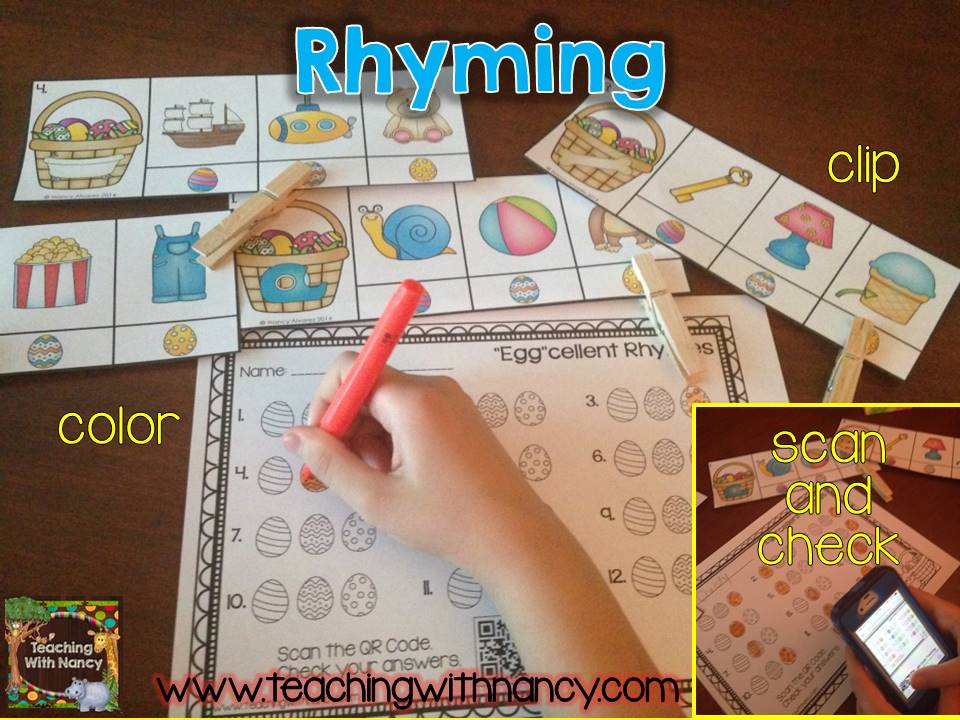 12 Rhyming Clip Cards with QR Code Scan and Check Answer Recording Sheet
12 Contraction Clip Cards with QR Code Scan and Check Answer Recording Sheet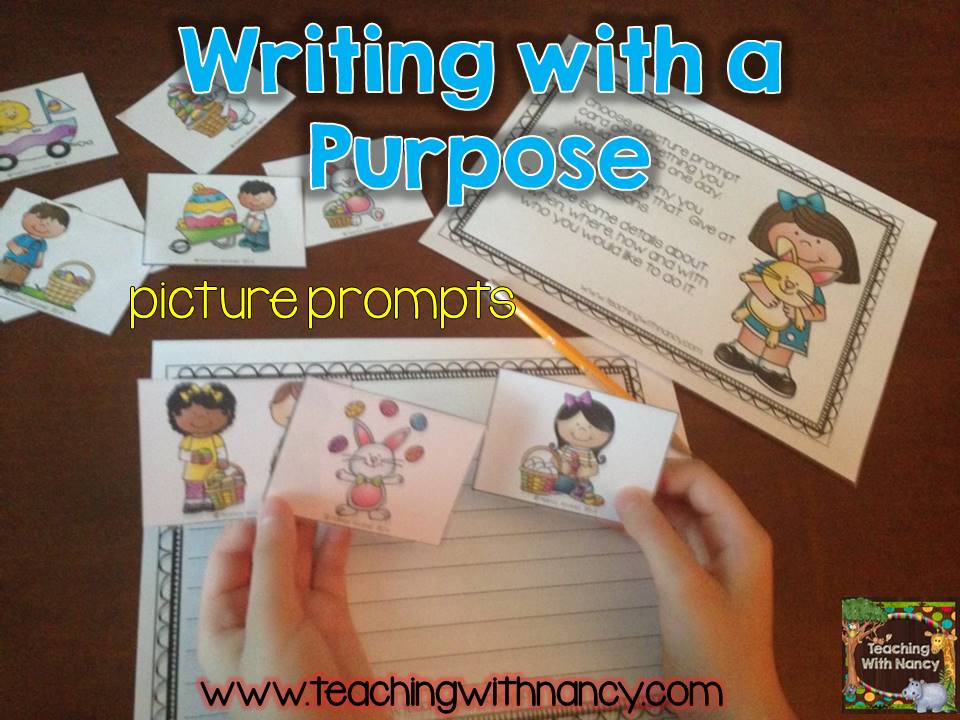 Writing with a Purpose Writing Station, 18 Picture Prompts, 4 Purposes for Writing mini Posters, Color and B/W Writer's Checklist
A smart device with a QR code reader is needed to use the self-checking feature; however, all the activities can be used without it. Clothespin or dry erase markers can be used for students to indicate their answers on the clip cards.
This bundle also includes six other great products created by other amazing teacher authors.
1. Spring's a Popping Punctuation
Seller: Wise Owl Factory
Retail price-$6.00
Product description: Spring's a Popping Punctuation This 127 page spring theme printable has activities, sentence sorting, play-dough work mats, games, a bulletin board display, and short emergent readers for expressive oral reading by paying attention to punctuation.
2. Spring Printables with Emergent Reader and Craftivity
Seller: Tiffany Brosig
Retail price:$5.00
Product description:
This printable packet is the perfect supplement to your springtime units! These pages can be used for morning work, homework, or independent practice/reinforcement!
38 pages includes:
Signs of spring emergent reader, roll and color by sum, count and graph, spin and graph, color by sight word (3 pages), digraph sorts (2 pages), raindrops poem, I love spring because…writing prompt, count by fives, spring ten frames (2 pages), roll and write sight words (3 pages), rainbow coloring page, my spring story writing page, making CVC words (2 pages), spring number bonds, sentence building sheets (3 pages), rainy day kids craftivity
3. Spring Reading Activities
Seller:Ingles 360
Retail price: $12.00
1. Spring Sentence Cards:
This pack of cards to build sentences is ideal to help your kids review and practice sentence structure and to consolidate vocabulary related to Spring time.
Making sentences can be used in pairs, small groups, in centers, or sent home for extra practice.
You will find 102 cards, 8 choose your choice cards, plus follow up worksheets
2. Writing in a Wheel
This is a new pack for Sentences in a wheel collection. It aims to build sentences about Bugs
Kids can use 5 different wheels to make sentences.
You will find 5 wheels and 5 follow up worksheets to use with a clip.
Children use a clip, spin the wheel and write sentences.
3. Can Write about Spring
Looking for an innovative, interactive way to introduce, review or practice writing skills?
Then this "I can write about Spring" interactive pennants pack will be perfect for you and your kids! Children can color the pictures, brainstorm and write words related to the pictures.
You will find 20 pennants with spring themed words
10 color version
10 b/w version
one blank pennant in case you want to add more spring words
Plus 2 follow up worksheets
4. I Spy….Spring
I spy… packs are a great way to get your kids reviewing and consolidating vocabulary while having fun!
Children use a magnifying glass to find 11 words hidden in each picture. They can tick the words in the Hidden word stick and write them on their recording sheet.
I spy Spring pack includes 4 pages – 4 different scenes color and b/w version
Plus follow up worksheets
5. Spring Interactive Headbands
Word recognition is an early skill that helps children identify new words, associate words and pictures and consolidate word structure. These headbands provide a visual map to help children learn new words and use them in context. They not only build rich vocabulary but also provide individual or group practice.
You will find 14 headbands
6. Spring Bottle Cap Cards
Wondering what to do with the bunch of plastic bottle caps you have at home?
Here you have an idea! Paste the letters labels onto the clean caps to use with the vocabulary cards.
Children can practice and consolidate building winter themed words
while having fun
They can be used in centers or at home.
You will find 9 cards with pictures and words and 9 cards only with pictures for older children
**If you don't have enough bottle caps, you can cut the circles and use them with the cards**
7. Spring Cootie Catchers
Kids (and me, too!) love cootie catchers. I made this bunch for children can practice and consolidate vocabulary related to Spring.  You will find 8 different cootie catchers, color and b/w version, with different tasks and folding instructions.
They can be used in centers or at home.
4. Non-Fiction Foldable Emergent Readers: Oviparous Animals! ~Set of 6!
Seller:Jennifer Drake
Retail price:$4.50
Product description:Are you gearing up to do a non-fiction unit of study with your students this Spring? If so, and you are planning on having your students learn and read about oviparous animals (hatch from eggs) and/or lifecycles of oviparous animals, this 'EGG'-citing pack is sure to engage your young readers and foster independence!
This Pack Includes: *6 foldable emergent readers covering a variety of sight words *Non-Fiction readers centered around the topic: Oviparous Animals *Include many non-fiction text features including: diagrams, labels, bold words, definitions, fact boxes, captions & more! *books appropriate for those reading Fountas & Pinnell Levels A- C *Simple to use! Just print, fold & read! *the books print on 2 pages- or can be made back to back (see photo instructions) *Book Titles: ~ 'Who Is Oviparous?" (great for question and answer book studies too!) ~"All About Snakes!" ~"All About Frogs!" (great for lifecycle of frog study too!) ~"All About Butterflies!" (great for lifecycle of a butterfly study too!) ~"Facts About Oviparous Animals!" ~"Am I Oviparous?"
5. Phonemic Awareness Beginning Sounds Centers & Activities
Seller:Life over C's
Retail price:$10.00
Product description: Beginning sounds will be fun to learn with these 10 centers & activities. Students will practice beginning sound recognition with puzzles, matching, card games, play dough mats sorting mats! A great addition to your word work activities. I recommend printing on card stock and/or laminating these pages for durability. An alternative is to put the play dough pages and matching pages in page protectors, so that they are reusable. For the letter X, in some activities the ending sound X is used instead of the beginning sound to provide additional opportunities to practice the sound. Table of Contents: Pages 4-26: Beginning Sound Sorting Mats Pages 27-36: 3-piece Beginning Sound Puzzles Pages 37-42: 2-Piece Beginning Sound Puzzles
Pages 43-48: Uppercase/Lowercase Puzzles Pages 49-58: Beginning Sound Clip Cards Pages 59-66: Beginning Sound Matching Mats Pages 67, 70-81: Match It! a concentration game Pages 68-81: Slap-Card game (uses the same cards as Match-It! Pages: 82-108: Play Dough Mats Pages 109-122: 5-Piece Puzzles
6. Dolch Sight Word Reading Exercises
Seller: BuySellTeach
Retail price:$3.00
Product description: Become a STAR READER with this great packet of sight words. Read the sight word sentences successfully and color the star showing-YOU DID IT! This "Egg"cellent activity will help your beginning reader feel confident and excited to read! Purchase this product on Educents and receive a bonus third grade sight word list
(INCLUDED) with sentences.