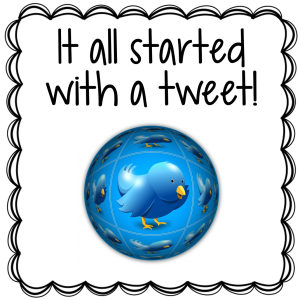 I am not sure there is really a formula or set step-by-step process to becoming a connected educator, but I can share my personal journey. Perhaps some of the choices I made along the way can shed some light on how others may get there.
It All Started with a Tweet
If I had to pin point the moment when it really began it would be in the conference room of my school right before we got started with our weekly admin. meeting. My principal at the time, Mrs. Paige Hanks, was constantly talking about Twitter and things that were trending. It happened quite organically really, I didn't think much of it at the moment but she had us all take out our phones and create a Twitter account. Then she just started reading off names of people she thought we should follow.  I specifically remember her saying to follow Matt Gomez, Jerry Blumengarten and Jessica Johnson. All six of us around the conference table started to follow one another and sent out some test Tweets. I guess you can say Twitter was the first step for me.
My First Tech Conference
A few months later I went to Austin, TX to attend TCEA for the very first time. It was very exciting for me because I would also have the opportunity to present the SmartBoard portion of our early childhood session. Our presentation was a hit, we had a full house. People had to be turned away for lack of seating.
Following my library media specialist lead, the first session I attended at TCEA was in what is called The Square. It was a EdCamp style session. At The Square, I learned how teachers were using blogs and Twitter with their students.  I also took part in my very first Google Hangout session lead by Amy Mayer.
Getting and Staying Connected
Tweet: Being a connected educator should come w/ a warning, "Connecting w/ other teachers may electrify your teaching & cause a surge of learning."
Have you ever been really excited about something and before you even noticed the excitement slowly disappears and, "Poof!" it was gone? For me, the opposite happened. The more I connected with others that shared my same interest and passion, the more I grew by leaps and bounds.
I connected with people on Google+, private FaceBook Groups and became a blogger. Before I knew it, I was helping other teachers become connected educators too. I started my own YouTube channel and created tutorials with tech tips for teachers. One thing just kept leading to another and another.
It has been about two years since that day in the conference room, but the learning has not stopped. I am very thankful to Paige Hanks for taking those 10 minutes that day to help me and those at that table take the first step in becoming a connected educator. I hope to be able to do the same for others.
I hope something I have shared here has sparked your curiosity and gotten you interested in beginning your own journey in becoming a connected educator.
Watch this brief video to learn more about why you should become a Connected Educator.