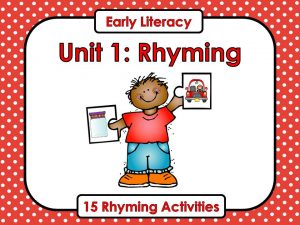 This unit is a collection of many of my rhyming activities.  Please watch this brief product preview before making your purchasing decision.
Unit 1 of my early literacy series focuses exclusively on rhyming.  This unit includes 15 rhyming activities of varying difficulties to use throughout the school year.  This unit will provide your students with plenty of practice to help them master and sharpen their rhyming skills. All the activities in this unit are aligned with Texas preK guidelines but are also very appropriate for kindergarten intervention small group instruction.
This 140+ page unit will save you time and money.  Each activity comes ready to print, cut and laminate.  All you need are clothespins or any other small manipulative for students to use to indicate the correct answers.
This unit includes:
16 Rhyming Rainbow Cards
18 Rhyming Puzzles
20 Rhyme and Clip Cards Set 1
20 Rhyme and Clip Cards Set 2
24 Do they rhyme? Cards with extension sheets
21 Pairs of Hearty Rhymes Matching Cards
21 Pairs of Lucky Rhymes Matching Cards
21 Pairs of Penguin Rhymes Matching Cards
20 Barnyard Rhymes Clip Cards with Answer Recording Sheet
20 Roaring Rhymes Clip Cards with Answer Recording Sheet
20 Buzzing Rhymes Clip Cards with Answer Recording Sheet
10 Mystery Rhymes Clip Cards with Answer Recording Sheet
20 Penguin Rhymes Clip Cards with Answer Recording Sheet
18 Rhyming Rabbit Cards with extension sheets
10 Rhyming Circles
For a longer, more detailed downloadable preview Emergent Literacy Unit 1 Rhyming by Nancy Alvarez Preview