Do you teach students about the life of Martin Luther King, Jr.? If you teach in Spanish it is very difficult to find materials about this American hero.
I just finished a mini unit on the life of MLK, Jr. completely in Spanish. I even created a website in Spanish that students can use to research and find information about the life, accomplishments, and legacy of MLK, Jr.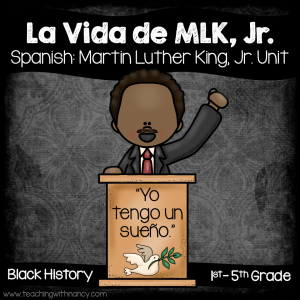 The resources are versatile enough to span across several grade levels. The unit comes packed with a variety of activities. I've drawn from primary resources to provide your students with factual information.
Included in this unit are:
Photographs of MLK, Jr. and the Civil Rights Movement (primary sources)
Spanish translation of Dr. King's most famous speech, "I Have a Dream"
Writing Prompts (can also be used for just discussion)
Famous Quotes by Dr. King for discussion and writing activity
Timeline of the Life of MLK, Jr. (cut and paste)
Marching Towards a Dream writing prompt
MLK, Jr. Biography page for students to complete
MLK, Jr. Character Bubble Map
Poster, Checklist and Template for writing a friendly letter to Dr. King
MLK, Jr. Birthday card
Template for writing a Cinquain Poem about MLK, Jr.
To learn more about this unit, visit the product page and download the preview file.